"We could try an Italian. That would be exotic!"
My Monash University colleagues' suggestion for dinner reminded me that everything was upside down in « Down Under ». I had left Europe in the middle of the summer and no wore walk a sweater or even a coat when walking in the cold but still sunny streets of Melbourne. Earlier in the week, I had eaten in an Izakaya and tried a « Pho » in a Vietnamese restaurant a few blocks from my Victorian hotel.  But, for my two colleagues, one from Bangladesh and the other one Chinese from Kuala Lumpur, an Italian restaurant sounded exotic. The pasta and the wine were great.  After dinner, we drove to St Kilda, the hip beach to watch a few penguins and the city lights from the other side of the bay.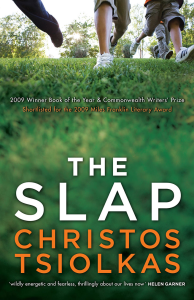 Christos Tsiolkas' superb novel gave me a similar impression. At first, ethnic tensions seem to be the story's thread. Harry slaps Hugo, an out-of-control 4 years old boy who threatened his son with a cricket bat during a barbecue in Melbourne's suburbs. Harry is Hector's cousin whose 40th birthday is the occasion. Hector's family is Greek: traditional, overwhelming, but strong. Aisha, Hector's wife, is Indian. She is one of Rosie's best friends. Rosie is a « real » Aussie and Hugo's mother.
That slap's consequences are told and explored from the perspectives of eight of the barbecue's participants. From Manolis, Hector's father and Harry's uncle to Connie, the teen who works in Aisha's vet clinic, baby-sits Hugo and is in love with Hector. They all have their own habits, frustrations, hopes and lusts. The slap is the catalyst that drives previously unspoken wedges.  Tsiolkas' style is sometimes raw and so is the sex.
The eight actors of this suburban plot, however, have depth and punch. Never short in surprises, the story starts with Hector on the verge of seducing or being seduced by Connie, upset as he attempts to quit smoking or sees his son becoming too fat. It ends with the -oh- so perfect Aisha, always in control, be it performing surgery on frightened dogs or in her kitchen invaded by her Greek mother-in-law. But there she is, considering leaving Melbourne for Canada and a colleague she met at an international veterinary congress. Enough to put upside down some common wisdoms.
NB: « The Slap » is also the title of an Australian series inspired by the book as well as a recent American adaptation – not as good as the original one.
The Slap – Australian TV series