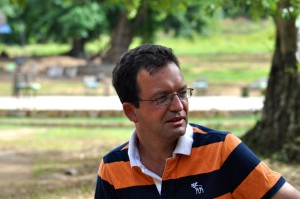 My name is Damien. I am 47, married, father of four children. Many of the pictures included in this blog have been taken by my wife, Céline.
I am francophone, but I live in the US.
I travel a lot, sometimes for work, sometimes on holidays and I enjoy reading very much. Since a few years, I am reading books – mainly fiction – which take place in the country or the city that I am visiting. When possible, I try to find and go to the places described in the novel, or I am happy to read a chapter that describes an atmosphere, a music or a dish that I have already encountered. The book gives me the opportunity to go beyond the touristic clichés that are too often the lot of short-term visitors. The novel opens for me a window on the country, sometimes on the daily lives of the people, sometimes on its history.
Please contact me at: travelreadingsdamien@gmail.com