Patricia asked for some reading suggestions about Tanzania. Ernest Hemingway has two famous short stories and one autobiographical story which take place in Tanzania, at the time of the great African safaris, a bygone era when the "big five" were still hunted…and when posing in front of your hunting trophies did not cause too much uproar.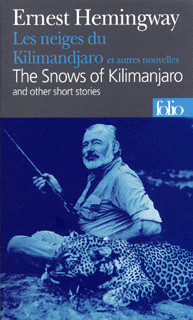 The first short story is "The Snows of Kilimanjaro" considered as one of Hemingway's masterpieces. It doesn't describe the ascent of the highest mountain in Africa. An American writer, injured during a hunt in one of the plains below the snow-capped summit, is ruminating on his life and his career. The injury gets infected, the rescue plane is late and the writer starts losing his bearings.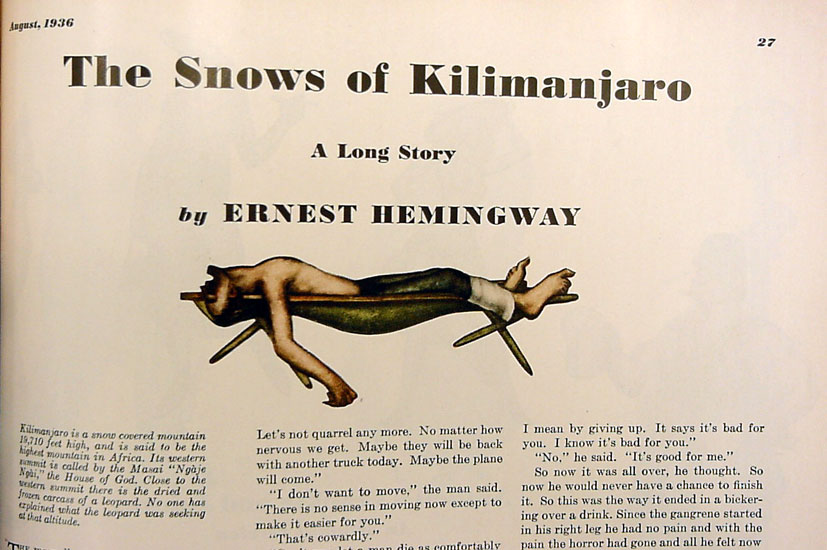 « The snows of Kilimanjaro » inspired a movie from the 50s with Gregory Peck and Ava Gardner. I haven't seen it, but it seems a little bit outdated.

The title also inspired a French song in the 60's. A little bit kitsch, but famous in France.

« The Short Happy Life of Francis Macomber » is another African short story by Hemingway, an excellent one about lion hunting, about cowardice, courage and domestic conflict, all recurring themes in the author's work.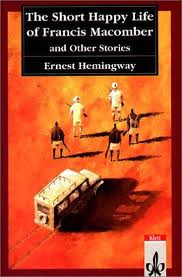 It was adapted in Hollywood in 1947 in a movie starring Gregory Peck.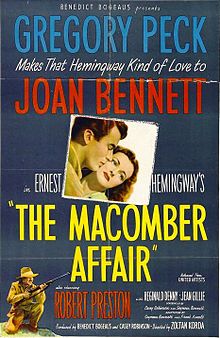 Finally, « Green Hills of Africa » is autobiographical and mixes the description of the safari that Hemingway and his wife Pauline are making around Lake Manyara in Tanzania and exchanges about European and American literatures. The story follows the long pursuit of kudus and the importance of bringing more spectacular trophies than Karl, the other hunter sharing the camp site.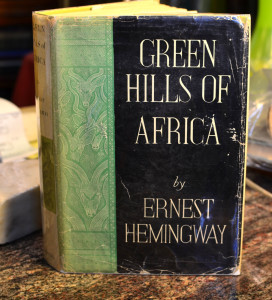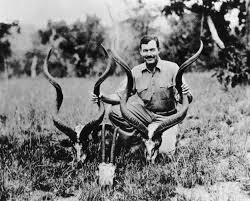 Before World War I, Tanzania was a colony of the German Empire while Kenya was administered by the British Crown. British novelist William Boyd, selected by the Fleming family to continue the James Bond' series (« Solo »), wrote a wonderful novel « An Ice-Cream War » covering that period. It describes the war as experienced, at first in a very careless fashion and then as a tragedy, by British and German soldiers and by the settlers families on both sides of the border.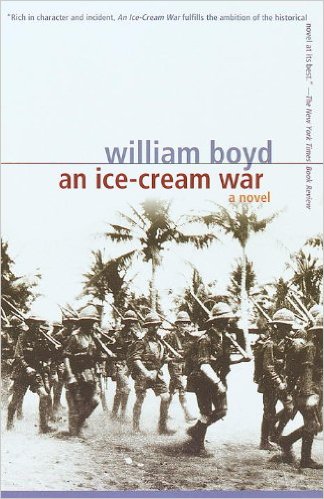 I am finishing these reading suggestions for a trip to Tanzania by « The Last Gift », a novel by Abdulrazak Gurnah, a writer born in Zanzibar but living in the UK. I liked very much this book which mainly takes place in England, in Norwich and Exeter, but has its origin and founding event in Zanzibar. Through the prism of an immigrant family in Great-Britain, the author evokes very subtly the sacrifices but also the secrets that are linking two generations.